Read time:

11

min
Key points
Vaccines—including the COVID-19 vaccine—are rigorously evaluated by experts in clinical trials before they're approved for use.

Side effects happen, but the percentage of people who experience them is very small (and the risk of side effects is far outweighed by the amount of people who are protected by vaccinations).

Vaccines don't give you an actual disease. Some types give you an inactive or very weakened version of a virus to trigger an immune response and "teach" your body how to fight it off. Others give your body a "blueprint" for defending itself.

It's crucial to find reliable sources of information before making any health decisions.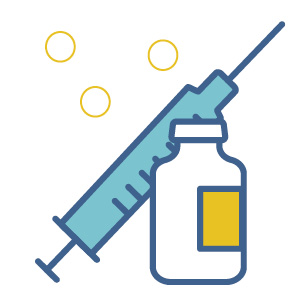 Vaccines are a hot topic these days due to the COVID-19 pandemic. If you're concerned about whether or not it's safe to get vaccinated, you're not the only one. There are lots of misunderstandings (and misinformation) about vaccines and how they work. While in the past, some vaccines have had negative side effects or have been recalled, modern vaccines have been responsible for only a very small percentage of severe adverse reactions (i.e., a one in a million chance, which is less risky than driving around in a car). That small risk is way outweighed by the millions of lives they save. 
"Vaccines are one of the greatest success stories in public health," a representative of the Centers for Disease Control and Prevention (CDC) Immunization Safety Office told CampusWell in an interview. "Through use of vaccines, we have eradicated smallpox and nearly eliminated wild poliovirus. The number of people who experience the devastating effects of preventable infectious diseases like measles, diphtheria, and whooping cough is at an all-time low."
In a recent CampusWell survey, over 70 percent of student respondents said they'd already received or were planning to receive the COVID-19 vaccine. To clarify the facts and help you make your own decision, we reached out to the CDC and several health experts to get answers to your most common vaccine questions.
Antigen: A substance that causes an immune response in your body, including the formation of antibodies to fight it off. 
Antibody: A protein produced by your body's immune system when it detects antigens.
Pathogen: Something that causes disease, such as germs. 
Herd immunity: When a contagious disease is less capable of spreading within a community because many people have become immune to it (especially through vaccination).
White blood cells: Also called leukocytes, these cells are your body's "army," fighting off infections and diseases. 
Genome: Any living thing's genes and DNA.
How do vaccines work?
The World Health Organization (WHO) has a relatively basic explainer:
"A simplified explanation of how vaccines work would be to imagine them like helpers, giving your body's army of white blood cells a blueprint of how to defend itself before it ever comes into contact with a virus," says Dr. Mariam Khebir, a physician at the McGill University Health Centre in Montreal, Canada. "The injection in your arm is either a picture of the disease or an inactive version with the sole purpose of telling your body: Activate, get ready, and protect me! It does not cause the disease; rather, it tricks the body into getting to work before it is too late."
When it comes to the COVID-19 vaccine, some are concerned because mRNA vaccines are newly approved by the US Food and Drug Administration (FDA). But mRNA vaccines offer a promising technology for administering vaccines against all different types of diseases and have actually been studied by researchers for decades. The COVID-19 vaccines that use mRNA have been held to the same rigorous safety standards as all other vaccines in the US. 
"Some people have raised concerns that the mRNA could alter your genome, but that's simply not true," says Dr. Dave Wessner, a virologist and professor in the Department of Biology and Public Health at Davidson College in North Carolina. "The mRNA is degraded very quickly and never enters the nucleus of your cells." In other words, mRNA vaccines do not change your DNA in any way. 
How safe are vaccines in general?
Modern vaccine safety measures are incredibly thorough and high-tech, and vaccines go through rigorous clinical testing before being approved. In the US, experts at the FDA closely evaluate every vaccine before they're licensed. The FDA makes sure that not only is the vaccine itself safe but also any place where you'd receive it is following the safety guidelines (like storage conditions, proper administration, and filtering who is eligible to receive a vaccine).
"It's okay to be fearful when it comes to our health. The important thing is to use reliable and trustworthy resources, and to make sure we make the decisions based on facts," says Dr. Khebir. "No one can tell you that there is zero risk with vaccines. Even taking Tylenol for your headache can pose a risk, albeit rare. The simple act of crossing the street carries risk, yet we do it every day. When it comes to vaccines, many people forget that diseases such as the wild poliovirus, meningitis, tetanus, and measles are not something we worry about on a daily basis in 2021 simply because most of the population is vaccinated against it."
Administering multiple doses of a vaccine (often called a booster shot) is generally to "allow for the production of long-lived antibodies," according to the WHO. Imagine your body "building up" its memory of how to fight off a specific disease. Like exercise for building muscle, it can take multiple doses to build up immunity.
"When a new pathogen emerges, our body's immune response is new. Generally, the first time that an immune reaction occurs, the body does not have time to sufficiently develop 'immunological memory' against the disease," says Dr. John Lednicky, a microbiology research professor at the College of Public Health and Health Professions in Gainesville, Florida. "What a booster does is increase the amount of these memory cells."
The COVID-19 vaccines were produced so quickly. Are they still safe?
Just like any other vaccine, the COVID-19 vaccines were rigorously studied in clinical trials (while the world spent months in lockdown) before being approved for use. Since they were such a high priority, they were developed as quickly as possible but without sacrificing any safety procedures. This was done via simultaneous large-scale trials as well as global collaboration from research centers in different countries. 
"The vaccines were developed quickly, but the process was not rushed," says Dr. Wessner. "It's worth noting that a lot of valuable basic research occurred well before the emergence of COVID-19. Virologists have been studying coronaviruses for over 50 years, and researchers have been exploring mRNA vaccines for probably two decades. We've heard a lot about this virus being 'novel' and mRNA vaccines never having been approved before. That's true, but we've been studying these issues for a long time."
Plus, the COVID-19 vaccines are being monitored extra closely, with "robust monitoring systems in place to watch for adverse events that may not have been seen in clinical trials. If an unexpected adverse event is seen, experts quickly study it to assess whether it is a true safety concern," says the CDC's Immunization Safety Office.
As with any vaccine, there are always cases of adverse reactions. "In most cases, side effects are mild [e.g., soreness where the shot was given or a headache] but go away within a few days," says the CDC. "Severe, long-lasting side effects from vaccines are rare."
Bottom line: The numbers prove that we're way better off with vaccinations. "Americans have never been healthier than we are today, and vaccines have never been safer than they are today. The benefits of vaccines far outweigh the risks."
What about systemic racism in the healthcare system?
Unfortunately, systemic racism in the healthcare system has been a problem throughout history (noteworthy cases include the Tuskegee Study, in which hundreds of African American men were lied to and given syphilis). This has led to a very understandable distrust of public health establishments among marginalized communities.
"The first step in tackling it is by admitting that it exists, and acknowledging the historical medical injustices many communities had to endure," says Dr. Khebir. "By acknowledging this trauma, we're better equipped to understand their concerns. Ensuring that people from marginalized communities have access to higher education and leadership positions is a necessity to ensure that they are represented. With the proper tools to communicate, understand, and empower one another, we can come together as a society and ensure that no one is left with suboptimal access to healthcare, vaccines, or resources simply due to their minority status."
Will I be forced to get the COVID-19 vaccine?
In short, probably not. That being said, there may be some major drawbacks to skipping the vaccine, even beyond the added risk to those you love (especially the elderly or people with weakened immunity).
Over 100 higher ed schools in the US (including Washington State and Harvard) have announced that students wishing to attend in-person classes will need to have had the COVID-19 vaccine. No Canadian universities have stated this as a policy at this point, but infectious disease experts have said it would be "reasonable" to do so. This is nothing new—the majority of American states require children to be immunized against measles, mumps, and rubella (the MMR vaccine) before attending primary school.
Getting vaccinated could also affect your future travel plans. Several countries in Europe have opened their borders only to those who have been vaccinated or tested negative for COVID-19 right before arrival. Many countries, including the US, are considering COVID-19 vaccine certifications to allow domestic and international travel (though there are still no concrete plans at the time of this writing).
"I have already received both doses of the vaccine. I think the vaccine will help us return to normal, or as close to normal as we can get," says Hunter K., a first-year graduate student at University of the Pacific in Stockton, California. "If someone doesn't want to get it, that's their decision, but I'm glad I got it. It helped put my mind at ease."
One thing is for sure: The situation is rapidly evolving, so it's important to find a reliable source of information before you make a decision. Social media can be a goldmine of fake news, unfortunately. "With so much information—and sometimes incorrect information—available today, learning the facts before making health decisions is very important," says the CDC.
*Name changed for privacy.
GET HELP OR FIND OUT MORE
Article sources
David Wessner, PhD, Professor, Department of Biology and Public Health, Davidson College, Davidson, North Carolina.
Mariam Khebir, MD, Department of Anesthesia, McGill University Health Centre, Montreal, Canada.
John Lednicky, PhD, Research Professor, Department of Environmental and Global Health, College of Public Health and Health Professions, Gainesville, Florida.
CampusWell survey, May 2021. 
Centers for Disease Control and Prevention. (2020, September 4). Historical safety concerns. Centers for Disease Control and Prevention. https://www.cdc.gov/vaccinesafety/concerns/concerns-history.html
Centers for Disease Control and Prevention. (2021, March 4). Understanding mRNA COVID-19 vaccines. https://www.cdc.gov/coronavirus/2019-ncov/vaccines/different-vaccines/mRNA.html?s_cid=10506:mrna%20vaccine:sem.ga:p:RG:GM:gen:PTN:FY21
Jackson, H. (2021, May 9). Several US colleges to require COVID-19 vaccination. What have Canadian schools said? Global News. https://globalnews.ca/news/7845331/canada-universities-covid-vaccine/
Josephs, L. (2021, May 22). Covid vaccine passports: Everything we know so far. CNBC. https://www.cnbc.com/2021/05/22/covid-vaccine-passports-everything-we-know-so-far.html
Smith, D. (2021, April 8). Science advisor says getting a vaccine is safer than driving to work. WalesOnline. https://www.walesonline.co.uk/news/uk-news/science-advisor-says-getting-vaccine-20346655
Rouw, A. (2021, April 27). Key questions about COVID-19 vaccine passports and the US. KFF. https://www.kff.org/coronavirus-covid-19/issue-brief/key-questions-about-covid-19-vaccine-passports-and-the-u-s/
Solis-Moreira, J. (n.d.). COVID-19 vaccine: How was it developed so fast? Medical News Today. https://www.medicalnewstoday.com/articles/how-did-we-develop-a-covid-19-vaccine-so-quickly#mRNA-technology
Stuart, E. (2021, May 7). More than 100 US colleges and universities are now requiring students to get Covid-19 vaccinations. CNN. https://www.cnn.com/2021/04/29/health/student-vaccine-requirement/index.html
US National Library of Medicine. (2021, January 4). Medical encyclopedia. MedlinePlus. https://medlineplus.gov/encyclopedia.html
World Health Organization. (n.d.). How do vaccines work? World Health Organization. https://www.who.int/news-room/feature-stories/detail/how-do-vaccines-work#:~:text=Vaccines%20contain%20weakened%20or%20inactive,rather%20than%20the%20antigen%20itself